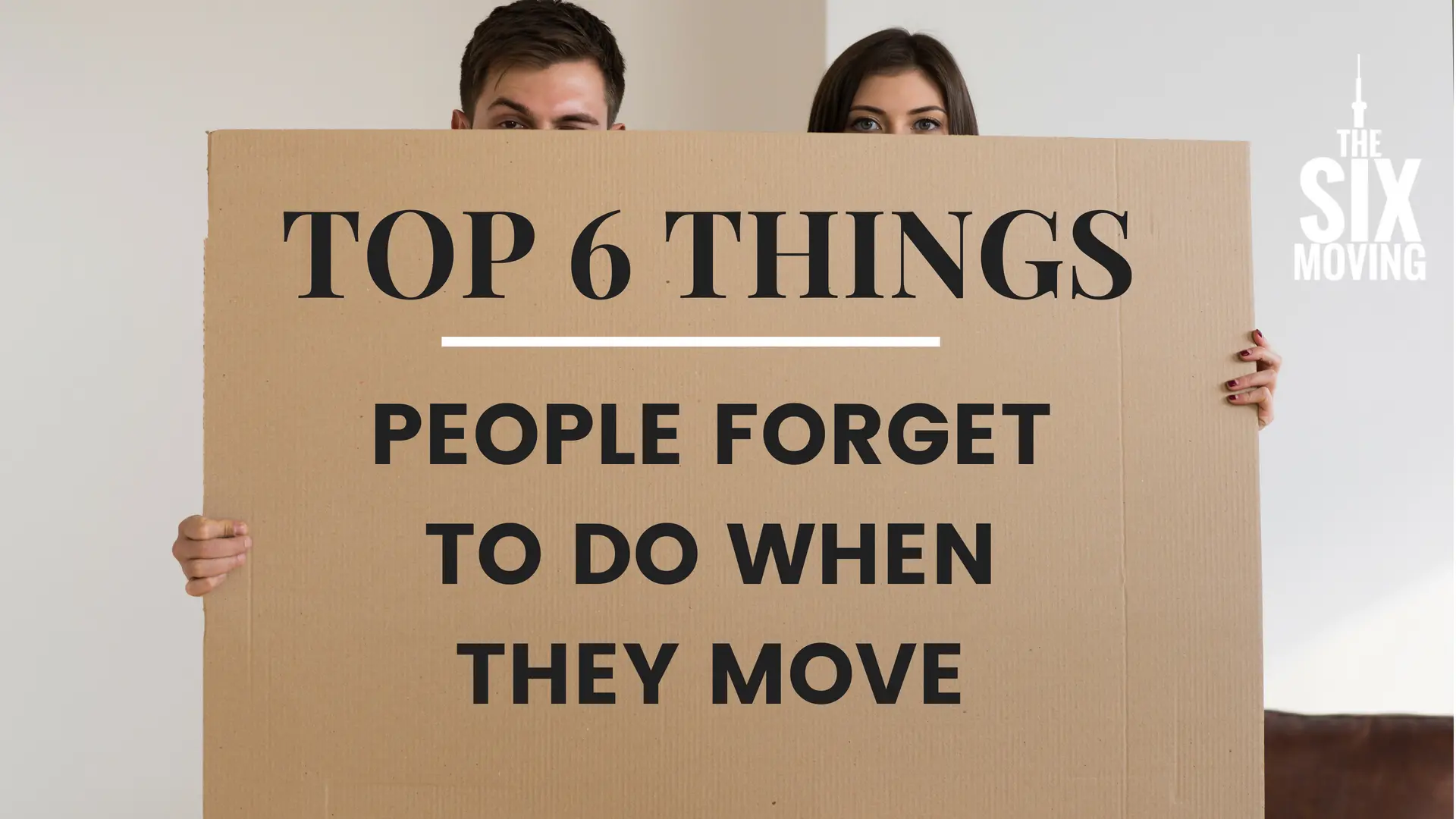 6 THINGS PEOPLE FORGET TO DO WHEN THEY MOVE
We know; moving can be so demanding, time-consuming and even nerve-wracking. Everyone knows how important it is to follow an eight-week moving checklist to be as prepared and ready as possible for the big day! However, no matter how organized and meticulous you try to be, some things will always inevitably escape our minds and be forgotten when our minds are on 'moving mode'. Our many years of moving experience has allowed us to spot minor mistakes most people make when moving. Luckily, we are here to help you avoid forgetting to do these things so your move may be as smooth as possible. There's a lot to remember when it comes to moving so it's no wonder that some things get left behind. Here are is our list of top 6 things people forget to do when they move:
1. Not packing things you need 
Once you are in 'packing' mode, it can be hard to stop. A feeling of completion and satisfaction occurs as you pack away, tape and label your boxes. While that is good, it is so easy to get carried away and pack things you didn't think you may need on moving day. This can be problematic if you have family and friends helping you pack because they may not know what you might personally need on the big day.
TIP: Always plan ahead a list of items you would like to keep on your person on move day. This includes simple things like a change of clothes, phone chargers, snacks, water, or more important things like wallet, jewellery, laptops and IDs. You should have a list of items you will need immediate access to at your new house and pack these things in a completely separate bag or box. You can keep this item in your car, in a separate room or just have the movers load it last in the truck for easy access (for local moves).
 2. Making an essentials box during your move
This one is closely related to number 1 and is something that is quite often overlooked. Don't believe that once you are at your new home, you will have easy access to everything you need at once. Most likely, your moving boxes will be stacked and/or scattered in different rooms. This will cause a lot of back and forth when looking for particular items and you might not have the energy for that after such a long day. The last thing you want to do is rooting through all of your boxes looking for your essentials before bed, this will cause an unpacking mess.
TIP: Make a list of essentials you would like direct access to once you are at the new place. These are items that you use on a daily basis but also items that will speed up your unpacking process. This can also include items you may need in case of emergencies. You should pack these items in a designated box ahead of time so that you may have the chance to check your list and add things as you need them. Common essentials items include medicine, a first aid kit, scissors, towels, toiletries, bedding, basic tools, snacks, refreshers, coffee/tea, keys, phone chargers etc.
3. Informing the right people about your move
You would be surprised at the number of people who move but forget to tell people about it. Aside from family, friends, neighbours, you should also remember to inform all the utility providers, bank, doctors, insurers, workplace and other people with whom you correspond regularly with your address change. It is a good idea to schedule a couple hours one day to sit down and make the phone calls to the appropriate places.
TIP: The post office will have an address change form you can fill out which will redirect all your mail to your new address at a reasonable fee. Check out our blog on the Ultimate Address Change Checklist to ensure you inform all the right people about your address change for your Toronto move.
4. Using the right packing supplies
This one seems simple but so important yet so overlooked. Not using the correct packing supplies can lead to damage to your belongings. It can be so tempting to get free boxes from the grocery store or even from LCBO. Resist that temptation! Those boxes are not only not strong enough for the stress of a move but they often leave a bad odour on your belongings from their original contents. These boxes are often flimsy and meant for a one-time use, as such, they can collapse when full. We strongly recommend against using plastic bags for packing because they can easily tear open, leaving your items scattered all over the floor. Additionally, these items are not stackable in the truck, resulting in wasted space and added time. Additionally, flimsy boxes and plastic bags don't always seal properly and this can leave your items vulnerable to their items if you're moving in bad weather. 
TIP: Think quality, don't cut corners. Packing in flimsy boxes or plastic bags will result in more damage than earnings. Use appropriate quality materials. At The Six Moving, we always recommend overestimating the number of boxes you will need. If there are any boxes you don't end up using, we will gladly take them back. Our boxes are Canadian made, sturdy enough to withstand a move and come in various sizes. Check out our guide how to pack your home using different box sizes. Get packing supplies delivered for free within Toronto.
5. Making sure everywhere has been properly cleared
This might sound like a no-brainer but make sure you've packed everything prior to your move. With experience, we noticed that people often forget to pack items under the bed, under the stairs, in the attic, in the dishwasher, and in the shed. These are easy to overlook when you are packing in a hurry.
TIP: The Six Moving will always do a walkthrough of the home with you once they are done loading your items into the truck. Ensure to take advantage of this walkthrough by opening every cupboard, drawers, closets and outside spaces. Don't just quickly glance in the rooms.
 6. Arranging Child Care or Pet Care
Kids and pets tend to get really nervous and anxious during a move. It's a big transition after all. The best way to reduce stress (theirs and yours) is to keep them away from all of the action. It can be hard to command your move and your kids and/or pets at the same time.
TIP: Arrange for your kids to have a babysitter on the day of the move in advance. You can also leave your pets with someone you trust or pet sitters in the city for the day.
It's always a good idea to start planning your move early to avoid making the mistakes above. Give yourself enough time to get moving quotes, choose the right moving company in Toronto, get your move booked and start packing. You can get started right here!

Why Wait? Become One Of Our Many Happy Customers