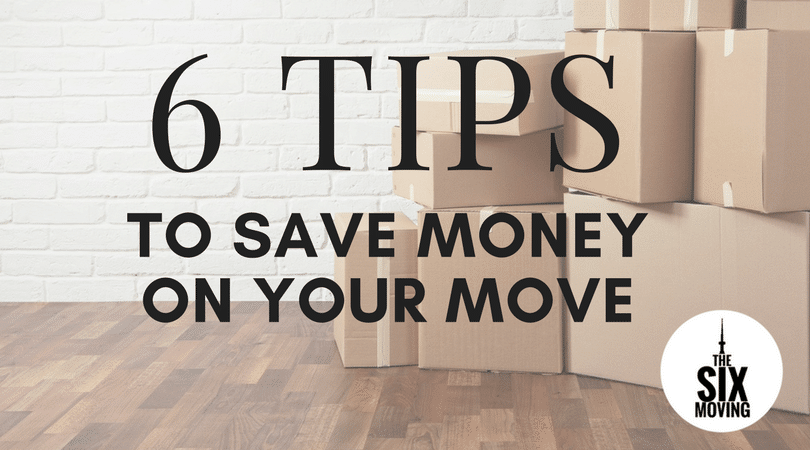 6 TIPS ON HOW TO SAVE MONEY ON YOUR LOCAL TORONTO MOVE
Professional movers often get asked a lot of questions. There is one particularly famous question a lot of our local Toronto move clients ask us when their move date is approaching and they are almost done packing: "What can I do to make my move easier and faster?". This is a question that we love answering because planning and preparation are crucial for a seamless and hassle-free move. Since we want each and every one of our clients to experience a stress-free move day, we have combined six of our most useful moving tips on how to make your local Toronto move easier and faster. We wanted to share these tips with you because not only you will be less stressed by the end of your move, but also because following these tips will save time on the day of the move and thus you will save money. Remember, most Toronto movers rates are based on the duration of your move, thus finding effective ways to reduce time will reduce some costs. These are secrets that many Toronto moving companies won't tell you because they make a buck on your time. If you have the initiative, here are our six tips on how to speed up and ease your Toronto local move.
1. Declutter: downsizing your Toronto move

We said it: moving comes with a lot of planning and preparation. Before you start packing, decluttering will help to lighten your load. This is one of the most basic moving tricks in the book. Having a lighter load will result in less packing, thus lower box and/or item count. Fewer boxes mean less time on the move. Start by separating your items into three piles: donations, disposal and keep. Additionally, having a garage sale or a yard sale can help in two ways: lightening your load for the move and covering some costs of the move. That's a win-win situation. If you have furniture items that you no longer need, that won't fit with space or decor at the destination, or any other reason, consider donating them to a Habitat for Humanity ReStore location in Toronto. Not only you will do something good for the community and the environment, your donation of gently-used household furniture will make a difference in people's lives. The Six Moving's professional movers can deliver to any of their locations for you during their store hours. A mini downsizing will help you save time on the clock. Bonus: your unpacking will be easier, more organized and especially less frustrating. Way to ace your local Toronto move!
2. Label your moving boxes

Labeling boxes is an often overlooked and underestimated step of packing and moving. Labeling is your best friend. Your moving experience will be much smoother if you stay organized. As you pack your boxes, indicate their content and their destined room on the box. The Six Moving's boxes have a designated section on the top of the box where you can indicate details about its contents.  For example, when you are done packing your plates, use a permanent marker and write "PLATES" in the content box and write "KITCHEN" in the room box. Labeling your boxes will give your professional movers all the direction they need when it comes to putting boxes in the right room at the new place. This way, they won't waste your precious time with questions such as "where would you like this box" every-time boxes are unloaded into your home. This is also effective for you when comes time to unpack. You will know exactly where to look for when you need plates! Your local Toronto move will be that much easier!
3. Seal your boxes and stack them together

This step usually takes place a day or two before your move, when you are all done the packing. Makes sure that all your boxes are properly sealed by taping the bottom of every box and taping the top tightly. Run two strips of tape along the opening and one trip down the center. Apply more tape if you need to further strengthen your box. Remember, use small boxes for heavier items and larger boxes for lightweight and bulky items. For a detailed guide, read our blog on how to pack your house in 10 easy steps.
Once you are done sealing your boxes, choose a location where you want to stack them together. At The Six Moving, our movers usually start loading the moving truck with the boxes first, so keeping the boxes close to the entrance door without obstructing the way is the best choice. Or you can choose a specific room where you want all the packed boxes to be. Stack your boxes by size: small boxes together, medium ones together etc. since they will most likely be loaded in the same order in the truck. Don't stack more than five boxes high and keep heavy boxes at the bottom and lighter ones at the top. If there are certain boxes that should not be stacked, clearly label "Do Not Stack" on the box. The Six Moving provides "Fragile", "Do Not Stack", "Glass" labels and other packing supplies such as boxes, bubble wrap and tape. Check out our Box Shop, you can get free delivery on your local Toronto move.  
4. Don't forget to pack these things when moving

Moving comes with such a long to-do list that forgetting things is almost inevitable. The Six Moving will ensure you don't forget anything behind. A pattern that we have noticed after years of experience moving is that clients often forget to pack the following items: personal belongings under the bed, the curtains, shower curtains, items in the attic, items in the dishwasher etc. These things don't escape the eye of our movers, they will gladly pack these leftovers for you. However, this will add time to your move. The best thing to do is when you are done the packing, inspect all of your rooms, look in every nook and cranny as if you were looking for something missing. You will be surprised at how many things we can forget to pack. Don't worry, our professional movers will always perform a walk-through with you to ensure nothing is left behind. Luckily, you are doing a local Toronto move, you can always go back if you think something is missing.
5. Reduce loose items on your local Toronto move
Loose items is a term professional movers have coined to identify items that are not packed or that are unpackable due to their shape.  Loose items can also be items that don't need to be packed in boxes to be transported, for example, backpacks, gym bags, golf bags etc. Unpackable loose items that movers often encounter are cleaning supplies (brooms, mops, vacuums), skis, floor lamps, gardening equipment (shovel, rake etc). Although there is nothing wrong with not being able to pack loose items, the reason why they add time to your move is that movers have to carry them individually, resulting in a lot of back and forth trips between your home and the truck. The best things to do if you have a lot of backpacks and other types of bags is to place them next to each other, so that many can be taken at once. Brooms and other items on sticks should be taped together. This will save time in the long run. Professional movers will not mind loose items and will find ways to work around them.
6. Local Toronto move? Set up elevators and reserve parking space for the truck 
This is more a requirement than a tip but it is often omitted. If you live and/or are moving into a condo building, ensure to reserve your moving elevator ahead of time.  Most Toronto moving companies will ask about an "elevator reservation time". Your building' management team, concierge or security will give you an elevator time slot, which you should report to your moving coordinator. On the day of your move, 10 mins before your movers arrive, get in touch with the person responsible for setting up the elevators to ensure they get a head start. That way, your movers won't have to wait on the clock for the elevators to be ready for use. Reminder: Toronto movers rates are based on time, be ahead of time! In the same way, get informed about the location of the loading dock or loading bay and inform your movers about the best way to access it so they don't loop around your building trying to find it. This has been a frequently encouraged tip for our clients doing a local Toronto condo move.
On the other hand, if you live in a house, ensure there is parking available if the movers need to park on the street. An easy way to reserve a parking spot is to park your car in front of your house. Inform your neighbors about your moving plans so they can also reserve the second spot for you and move their car once your movers arrive. If you have pylons, you can use those to reserve a parking spot for your moving truck. The benefit of taking this extra step is that when your movers arrive, they can easily park right in front of your house, thus reducing the walking distance between the home and the truck. The shorter the walking distance, the faster the move. Ensure you are aware of parking restrictions on your street. If there is no parking before 10 am, don't book your move for 9 am; you risk the chance of getting a parking ticket added to your bill. If you need a temporary parking permit on your street, you can easily purchase it on the City of Toronto Parking Permit website.
READY TO MOVE WITH THE BEST TORONTO MOVERS?
These are six of the most useful and effective tips that we have been sharing with our local Toronto move clients. They are based on our years of experience performing local Toronto moves and of observing frequent move patterns that can be easily remediated. If you don't have time to follow all of these steps, don't stress out. One of the biggest mistakes of moving is worrying and stressing out. Have patience, be positive and feel free to leave room for errors and mistakes. Having realistic expectations for your move is the best mindset. Our movers are friendly, approachable and always happy to go the extra mile for you, whether you are fully ready for them or need a little extra help. Our professional movers will always work fast without compromising safety. On the other hand, if you just want to sit back and relax, you can always hire our professional Toronto packers, who will ensure all of the tips we mentioned above are followed! Your Toronto moving companies search ends here.
Why Wait? Become One Of Our Many Happy Customers