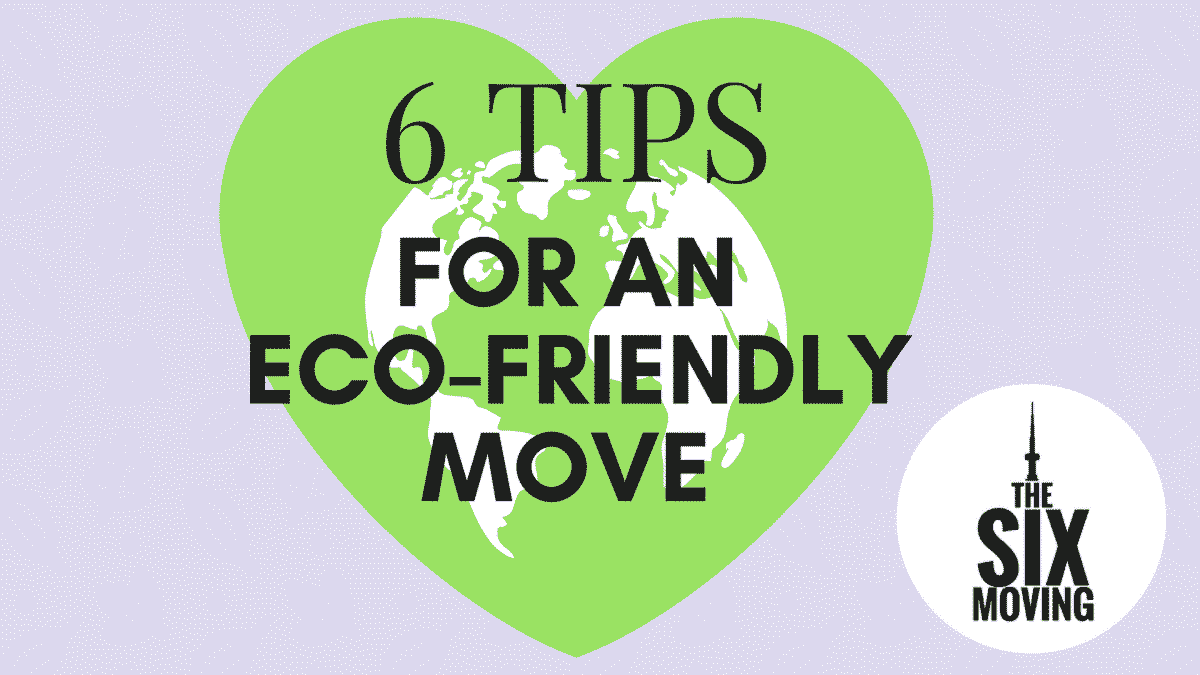 6 TIPS FOR AN ECO-FRIENDLY MOVE | GREEN MOVING
It's moving season and Earth Day! If you are planning your next residential move, let us tell you that moving is one of the most wasteful days in a home. However, there are many small but important ways you can reduce waste during your local move. Green moving is important because it means being conscientious of our environment and employing methods that improve our ecological footprint. At The Six Moving, we are a local moving company which follows a corporate social responsibility revolving around taking initiatives to promote environmentally conscious practices.  Earth-friendly moving means scaling back and tweaking practices that make a meaningful impact on the idea of green moving, which is starting to receive more attention in the moving industry. On Earth Day, we wanted to share with you the little things you can do to support our planet with your move. So here are six tips on how you can contribute to an eco-friendly move.
1. Use What You Already Have
You have more packing materials in your home than you think! Look for items in your home which can be used as packing materials to cut down on the number of boxes you will need. This includes suitcases, plastics bins, baskets, duffel bags, reusable grocery totes etc. You can also use clothing, blankets, linen and pillows as protection for wrapping fragile items, provide shock-absorption and cushion. The more you can pack your belongings with items that you already have, the less you will have to purchase moving boxes and/or packing supplies. This is the time to get creative and use your imagination!
2. Use Eco-Friendly Moving supplies


Look for 100% recycled boxes and packing paper before you buy packing supplies. At The Six Moving, all of our boxes, cardboard and packing papers are made of recycled materials. We can recycle your used boxes and we will even give you a refund for returning boxes that you have not used on your move. Ask your moving company how many boxes they think you will need based on your move size so you will not buy more than you need. At The Six Moving, our moving assessment process includes a free estimate of an approximate box count for your move. This will save you time, money and help the environment! Get boxes today!
3. Don't Discard, Donate!
As you prepare for your move, decluttering is almost inevitable. It can be tempting to throw out a lot of accumulated items as you clean out your closets, pantry and rooms. But before you dispose of anything, consider if they can be given a second life by donating them. For example, you can donate clothes to charities such as Salvation Army, Value Village or your local clothing Donation Bins. If you have furniture items that you no longer need, that won't fit with space or decor at the destination, or any other reason, consider donating them to a Habitat for Humanity ReStore location in Toronto. Not only you will do something good for the community and the environment, your donation of gently-used household furniture will make a difference in people's lives. The Six Moving can deliver to any of their locations for you during their store hours. Bonus: keep your moving and donation receipts to save on your taxes next year!
4. Recycle Your E-Waste

Recycling doesn't stop with cardboard boxes and plastic bottles. When you're making your next move, keep in mind that every electronic item in your household can be recycled. Of course, you can't recycle these in your green bin but if you decide to get rid of computers, batteries, TVs, small appliances, etc., there are many local companies that can do it for you. For example, you can contact Recycle My Electronics, Shift Recycling (which has many drop-off locations across Toronto), Revolution Recycling or you can call 311 and have The City of Toronto pick-up your e-waste separately on garbage day.
5. Use Green Cleaning Methods
Moving comes with cleaning! If you're having an apartment move, you will want to keep your unit clean for move-out inspection. And if you are one of those kind and considerate people who clean after they move out for the new owners, we have a few tips on how to keep the cleaning eco-friendly. These tips also apply for when you want to clean your new place! Eco-friendly cleaning involves avoiding the use of harmful chemicals whilst cleaning. Employing eco-friendly cleaning methods includes using products that are biodegradable, non-toxic, and made from renewable sources. With the growing consciousness of the environment, many brands are offering green cleaning products for your household. Alternatively, you can use traditional methods by using vinegar (for kitchen and bathroom) and baking soda (removes odours) to make low-impact replacements for a number of household cleaning agents.
6. Hire an Eco-Friendly Moving Company


This one is a no-brainer, eco-friendly moving can't go without an environmentally conscious local moving company. Make sure your moving company follows eco-friendly moving practices. At The Six Moving, all of our staff recycle and reuse materials as much as possible. Our office uses energy-efficient equipment and lighting. Our uniforms are made of 100% cotton, which is sustainable and renewable. Additionally, our packing materials are 100% recyclable and our trucks are run by biodiesel. Why is this important? Simply because a moving company that cares about the environment and their ecological footprint will also care about their clients.
Happy Earth Day!
Why Wait? Become One Of Our Many Happy Customers