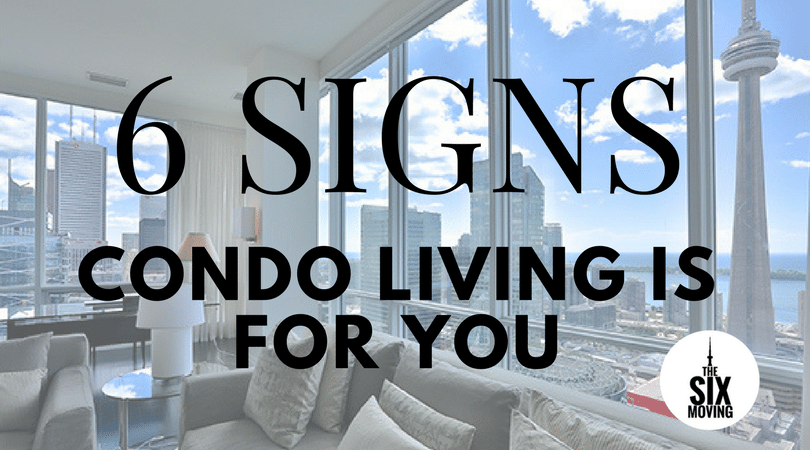 6 SIGNS CONDO LIVING IS FOR YOU!  TORONTO CONDO MOVE
The thought of moving to a condo can sound appealing, especially if you are a first-time buyer. Condos can be low-rise buildings, high-rise buildings, duplexes, triplexes, lofts, and even condos above storefronts. Condos can be brand new, re-sell or conversions, such as factories or even recently, churches turned into condo. All condos are not created equal, thus every condo move is unique! This is one of the many reasons why at The Six Moving, we don't believe in one-size-fits all types of moves. Every moving experience should be customized and based on one's needs.
Condo moving is one of our many specialties. We are familiar with the ins and outs of the different condominiums in the downtown core. We wanted to give you more insight on condo lifestyle before you decide to move into one. What sets condos apart from freehold houses is that you own your own unit while sharing ownership of the land, building and common areas. You will share costs with fellow members of your condo association, and the board of directors or property management will make the major decisions. Is condo living right for you? Here are 6 signs you should live in a condo.
1. You Like Low Maintenance Solutions

One of the many perks of moving to a condo means you do not have to deal with shoveling snow in the winter, cutting grass in the summer, raking leaves in the fall and other outside work. If these are activities you don't necessarily enjoy or if you don't have time for them, your condo building will hire professionals to take care of these tasks. These will all be covered for with the monthly maintenance fees that you pay. Oh, and let's not forget the convenience of the garbage chute for those who dislike taking out the trash! Condos basically offer low maintenance solutions to time-consuming tasks.
2. You Like Convenience

Some people just love having everything right at their fingertips. Convenience and accessibility is everything nowadays. Condos have changed the way in which many people live by offering great amenities such as gyms, pools, saunas, game rooms, party rooms, and conference rooms. Some luxury condos even offer spas, club lounges, rooftop terraces, guest suites, and chef kitchens. You are able to access all of these amenities and perks without stepping foot outside. The condominium becomes your world and your social sphere. Plus, you don't have to lift a single finger to maintain any of these, these are paid privileges. But the saying is true; you can't make an omelette without breaking some eggs. These are paid for through your monthly maintenance fees.
3. Views Are Everything!

One of the things that our clients moving to downtown condos love most about their unit is often the view. Here, we are talking about views from The Six! If you love Toronto's city skyline and you aren't afraid of looking from up above and everything that gives you a majestical bird's-eye view, condo lifestyle might be just for you. Whether you like water views or the view of a dense downtown core, high rise condos will enable you to wake up to a refreshing skyline view every morning and sleep to the city's night lights every evening. And if your unit's view includes the sight of the CN Tower, lucky you!
4. Your Toronto Condo Location Matters!

Location, location! This one is self-explanatory. Most condos are located in the downtown core or in the centre of denser municipalities. This means better access to transit, shops, restaurants, events and vibrant neighbourhoods. This is where you will find many amenities and services. Location means reducing time commuting and having more free time for using your condo amenities. Of course, everything comes with a little compromise.
5. You Don't Mind Size

Our city's condos are getting smaller and smaller with developments. Reflect upon your lifestyle and your long-term goals. If you are not growing a family or planning on having multiple pets, the condo lifestyle might be just for you since you don't have to compromise space to accommodate for the number of residents in your home. But keep in mind, architecture and design has come a long way. We see more condos that are space-efficient by utilizing the available space to make it feel bigger and brighter and also offer storage options. A small home comes with perks too; less furniture to buy, less maintenance and less cleaning.
6. Cost & Budgeting is Important

Let's face the facts; the condominium market continues to be strong in Toronto. With the hot housing market, it is becoming more and more difficult to acquire a house as we see continued price increases. People move to condos because not only are they are more affordable but also because rental rates continue to increase, making condos an even better investment. Even though condos in the core are not cheap, they are still more affordable than a freestanding house in the same area. Consider your budget before making your condo move. Finance experts say that costs for housing should not account for more than 30% of your budget. 
Ready for your condo move?
What the housing market tells us is that we can predict a strong 2018 year for condo real estate in Toronto. While the shift to condo living will continue to grow, good movers, those who are professional, knowledgeable and experienced in condo moving are necessary to ease the stressful process of acquiring a condo. This is why The Six Moving is committed to looking after each and every one of its clients by offering customized moving services to best suit their needs. If you think condo living is right for you, make your next Toronto condo move an impeccable one and call The Six Moving!
Why Wait? Become One Of Our Many Happy Customers