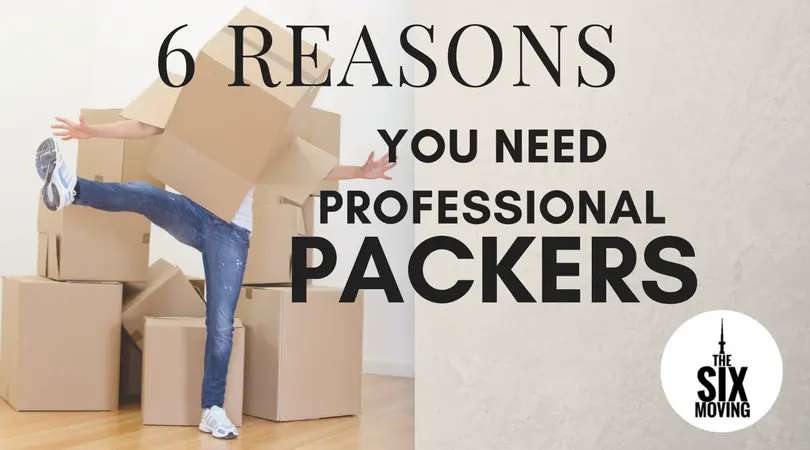 6 Reasons You May Need Professional Packing Services
Whether you're moving, downsizing, storing or renovating, there are many benefits to hiring professional packers and professional packing services to get the job done. Don't look for the right house packers in all of the wrong places. The Six Moving's professional packers and movers are trained to meet industry standards and achieve the highest level of customer care and customer satisfaction. If you are searching for packing help Toronto, don't look further. We've gathered six reasons why hiring professional packers can make sense for you:
1.You Have A Busy Schedule and Need a Packing Service
Some of us simply don't have time for packing. The thought of fitting packing into our schedule alone can be stressful. Whether you have a busy work schedule, family schedule, academic life or you just need to go places, a full schedule means little to no time packing. We all know that packing is a long and tedious process, especially if time is limited. Packing comes with a lot of pre-planning, such as sorting through your items, organizing your stuff and gathering packing materials. Oftentimes, people who rush packing often end up with poorly packed boxes, items that are not packed safely, unsealed boxes, loose items etc. which will add time to your move in the long-run because your movers will need to re-pack items for you. The success of your Toronto move is dependant on how well you packed. Let us take care of the pack for you and focus on your schedule and things that matter the most to you! Have the best Toronto packers on your side!
2. Last-minute pack or move
Sometimes we tell ourselves we will start packing ahead of time and not let things fall for the last-minute, yet we find ourselves with not a single box packed in sight when the move date knocks at the door. We get it. We all do it (and some more than others). The good news is that our professional house packers are here to help. We can fit you into our schedule and we will do our best to accommodate your packing service. Our professional Toronto packers get right to it and come fully prepared with all packing materials and goodies to get you ready for whatever it is you are preparing. Whether that is moving, staging, renovating, decorating, storing or anything else, we are always ready for you. Don't put yourself through that hassle, get The Six Moving's team of professional movers and packers on your side.
3. You Have Fragiles and Breakables
Pictures, artwork, frames, mirrors, vases, china, glassware are among the most fragile specialty items to pack. When not properly packed, they can break and shatter to pieces. Some of us don't even dare to touch our own delicates so hiring trusted Toronto professional movers and packers can be handy and relieving! The Six Moving's crew has the right technique and expertise to ensure the safety of your items when they are under our care. Safety comes first. We use only the best packing supplies that will provide the necessary damage-control and shock-absorption to prevent damages to your belongings. Last but not least, our company culture insists on treating our clients' items as if they were ours, thus ensuring a seamless packing and moving experience every time.
4. You just want professional packers
Some of us just don't want packing to be part of our DIY projects. Getting your house packing done professionally comes with many benefits. First and foremost, you will be getting a completely personalized and customized packing service which tailors to your particular packing needs. Whether you are packing for moving, for storage, for staging or whatever else it may be, a personalized packing service will cater to your needs and ensure you get what you pay for. Second, professional packers have the right technique, expertise and experience to safely pack household items and specialty items. Packers also have the right tools and supplies for each item, some items may require bubble wrap whereas some don't. Professional packers and movers know how to pack, stack and organize your items in a way that will make your move easier and more efficient. This can save you money by making your move take less time. Last but not least, when hiring a professional packing service, you also make your life easier because professional packers keep items well organized in boxes by room or with similar items and clearly labelled, making unpacking much easier.
5. You Just Need a Partial Packing Service
A partial packing service can also complement the above four reasons as to why you want to hire professional packing services. For example, you have a busy schedule but you have enough time to pack some items ahead of time yourself, leaving the packers with what is left. Or you just want The Six Moving to pack specialty items such as china, mirrors, artwork or other fragile items, and you are comfortable doing the rest of the house. A partial packing service can be convenient because it is budget-friendly and it can be done based on your schedule and your particular packing and moving needs. There are many options available, from packing a few rooms to packing only a few items. Simply let us know what you want to be packed or what you don't want packed and we will work accordingly. If you want packing supplies delivered so you can start packing some things yourself, we will make it happen.
6. You Just Want to Sit Back and Relax
Why bother packing yourself when you can get someone to do it for you? Sometimes it's all about convenience. When you know you've found the best moving and packing company, you know you can trust them with your belongings and you know you are in the right hands. When you get a full packing service, you basically don't have to lift a single finger (except when you dial our phone number). You can sit back and relax, have a cup of coffee while your packing team carefully and professionally packs away your belongings. This is a good time to focus on things that are important or priority to you. Hire the best Toronto packers and movers, call The Six Moving.
READY TO HIRE THE BEST PROFESSIONAL PACKERS IN TORONTO?
If you can relate to any of the reasons we mentioned, a professional packing service can be the right decision for you. Packing can be a taxing project but with help from our experienced, professionally trained packers, we can lift away that burden. The success of your move is often determined by how well you are packed. Protect your possessions by hiring The Six Moving for all of your Toronto packing and moving needs. The Six Moving will provide free on-site assessments to homes within the Toronto core, upon request. Get your FREE  quote today.

What Kind of Packing Services We Offer:
Kitchen Packing

Artwork Packing
Specialty Items Packing
Partial House and Condo Packing
Office Packing
Commercial Packing
Unpacking
Organization
Why Wait? Become One Of Our Many Happy Customers